Erik Amble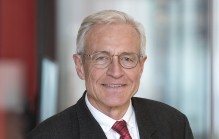 Chairman
Erik Amble founded NeoMed Management in 1997 and is its Chairman. He has over 35 years experience of venture capital investing in Europe and the US, the last 25 of which in the healthcare industry.
Previously Erik was Chairman of NeoMed AS, an investment advisory firm specialised in the healthcare industry, and President of Origo Ventures AS, a Norwegian private equity firm. Erik is a co-founder and former Chairman of the Norwegian Venture Capital Association.
Since founding NeoMed, he has been a board member of a number of emerging healthcare companies based in Europe and the USA. He currently serves on the board of directors of CorFlow Therapeutics.
Erik holds a Master of Science degree in Management from the Graduate School of Business, Stanford University, USA, and a Dr. scient. degree in Organic Chemistry from the University of Oslo, Norway.