Portfolio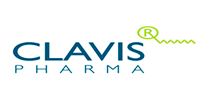 Clavis Pharma ASA is a pharmaceutical company creating patented new drug analogs of existing drugs based on its proprietary Lipid Vector Technology.
The new drug analogs offer improved efficacy and safety profile, prolonged effect allowing for more convenient dosing schedule, more convenient administration as well as opening up for new clinical indications.
Clavis Pharma ASA was founded in August 2001 by NeoMed and Norsk Hydro.
In 2006 the company successfully completed an Initial Public Offering on Oslo Stock Exchange (OSE:CLAVIS).

Status: Realised