Portfolio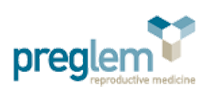 PregLem SA was a specialty biopharmaceutical company focused on developing and commercializing a portfolio of innovative products addressing significant benign gynecological conditions and infertility.
The company's assets were products at preclinical and clinical stages of development that were spun-off from Ipsen Pharma SA and licensed from HRA Pharma SA.
In 2010 PregLem SA was acquired for total cash considerations of up to CHF445 million by Gedeon Richter, Hungary's largest drugmaker (RICHT:HB).

Status: Realised