Portfolio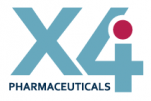 X4 Pharmaceuticals is focused on restoring healthy immune system function by developing novel therapeutics for the treatment of rare diseases.
The company's first-in-class, oral, small molecule therapeutics are antagonists of chemokine receptor CXCR4, which have the potential to treat a broad range of rare diseases, including primary immunodeficiencies (PIs) and cancer. A number of PIs are attributed to the improper trafficking of immune cells related to the CXCR4 receptor and its ligand CXCL12.
X4 is led by a team with experience in research, development and commercialization of therapies to treat rare diseases, and is located in Cambridge, MA.

Status: Active